Health at Every Size and Big Hearted Embodiment Training
May 8, 2020 @ 9:00 am

-

4:30 pm

$50
Health at Every Size and
Big Hearted Embodiment Training
Virtual Training
When: May 8th, 2020 – 9:00am-4:30pm
Where: Zoom virtual training : invitation to join meeting will be sent upon registration
Who: 6 CEU's available to therapists and dietitians. Event is open to all!
Cost: $50 suggested investment. Please be in touch if you are experiencing financial hardship due to Covid-19. Discounted registration is available upon request.
What to expect:
In the first half of this training, Opal Co-Founder, Julie Church, RDN, CD, CEDRD will provide an introduction to Health at Every Size (HAES). HAES is relevant for all of us since it is a paradigm that emphasizes equality for all, regardless of body size. This training will provide a foundation of nutrition and weight science research to help attendees learn the truth around weight and health and increase awareness of size discrimination/weight stigma. Time will be spent in the training to help translate the science discussed into our professional and personal lives.
In the second half of this training, Elizabeth Scott, psychotherapist and Co-Founder of The Body Positive will introduce the Be Body Positive model and its usefulness in treatment with clients who suffer from disruptions of embodiment such as eating disorders, self-harm, substance abuse, relationship violence and depression.
Course Outline:
9:00-9:15 Welcome and introductions
9:15-10:15 Health at Every Size Principles lecture and case studies, including research presentations
10:15-10:30 Break
10:30-11:30 Self-exploration exercises related to weight stigma and size discrimination
11:30-12:15pm Overview of application of Health at Every Size for various professions. Ending with Q and A
12:15-1:15: Lunch Break
1:15-2:15 : Introduce The Body Positive Model as a clinical resource
2:15-2:30: Break
2:30-3:30 : Experiential activities to explore your Developmental Process of Embodiment.
3:30-4:15: Share supporting evidence from Niva Piran's research.
4:15-4:30: Final questions, closing
Learning objectives:
Describe the five principles of Health at Every Size.

Name the benefits of using the Health at Every Size approach with a diverse population and in a variety of settings.

Explain the importance of one's own exploration around attitudes on weight and health.

Describe three practical applications of the Be Body Positive Model for clinical treatment.

Demonstrate relevant Be Body Positive Competencies to use in promoting resiliency against poor body image in clients.

Discriminate between self-esteem and self-compassion
Presenters:
Julie Church is a nationally registered and state certified dietitian, who has been passionate about treating eating disorders since 1999. She received her BS in Dietetics from the University of Kentucky and has been providing nutrition counseling to those struggling with eating disorders since 2001. She has joyfully contributed to related awareness and education events throughout her career and is a member of the Academy of Nutrition and Dietetics, National Eating Disorders Association, and International Association of Eating Disorder Professionals. Her significant contributions to the Seattle eating disorder treatment community include starting and maintaining a free eating disorder support group, creating Seattle Pacific
University's (SPU) Registered Dietitian position, and starting SPU's ongoing 9 year campus tradition of eating disorder and body image awareness and education events. She also has provided mentorship to several dietitians desiring to be trained in eating disorder treatment. She is known by colleagues, friends and family as a woman who lives and breathes her treatment philosophies of non-diet and health at every size. She enjoys spending time traveling to be with friends and family across the country and making memories with her husband and three boys.
Elizabeth Scott LCSW, CEDS-S, is an educator and psychotherapist whose work focuses on the intersection of embodiment, social justice, and mindfulness. As Co-Founder and Director of Training for the Body Positive, Elizabeth instructs treatment professionals, educators, and students to use the Be Body Positive prevention model to end eating disorders and promote joyful embodiment. This model is presented in the book, Embody: Learning to Love Your Unique Body (and quiet that critical voice!).
Elizabeth is a keynote speaker and workshop facilitator at major conferences including the National Eating Disorders Association, the International Association for Eating Disorders Professionals, and the Association for Women in Psychology. The Body Positive's model has been delivered at Cornell University since the fall of 2016. A pilot study of an adaptation of The Body Positive's college curriculum is currently being conducted at Cornell. Elizabeth is a Certified Eating Disorders Specialist and iaedp TM Approved Supervisor (CEDS-S). She studies Vipassana Insight Meditation and lives in the San Francisco Bay Area.
[su_button url="http://events.r20.constantcontact.com/register/event?oeidk=a07egxfzuu4f296f984&llr=dvoa9aiab" target="blank" style="noise" background="#68bb40″ size="10″ wide="no" center="yes" radius="round" icon="icon: shopping-cart" icon_color="#3e4043″]Register Now![/su_button]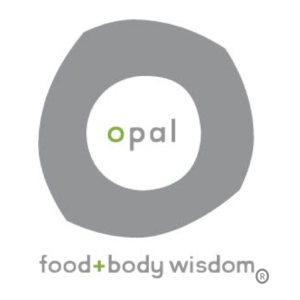 This training has been approved for 6 CEs for Washington State Licensed Mental Health
Counselors, Licensed Marriage and Family Therapists, and Licensed Social Workers. WMHCA
Provider #1612.
Opal: Food+Body Wisdom has been approved by the Commission on Dietetic Registration for 6 CE hours for Dietitians.